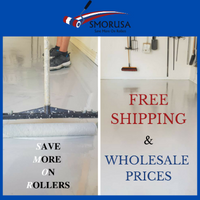 SMOR LLC is an online business with 40 years experience in the concrete flooring industry.
We supply high quality painting and epoxy flooring accessories to all size businesses and to the general public at affordable prices.
SMORUSA Roller Covers are great for any paint projects as well as the epoxy concrete flooring industry. Designed for: epoxy coatings, flake flooring systems, solvent base acrylics, polyurethane, and polyaspartic coatings.
We are the #1 choice for some of the largest Epoxy flooring companies in the USA for roller covers and accessories.
* Quality Epoxy Roller Covers and Accessories at Wholesale Pricing
*FREE SHIPPING ON ALL ORDERS!!
Time to order SMOR rollers
OUR PRODUCTS / CLICK PRODUCT FOR QUANTITIES